See the results for yourself. Our clients have achieved incredible, revenue-shifting results. And you can too!
Overview
Function venues is arguably one of the most competitive arenas in NZ, due to the sheer number of businesses fighting for visibility and cut-through. In addition to this context, the online space for anything to do with events, functions, weddings etc is dominated by multimedia online publications or industry aggregate sites.
The Bluestone Room is a unique hospitality business within the diverse Auckland F&B and Entertainment landscape. Operating as a bar, restaurant and a function and conference facility nestled within a superbly restored heritage building in Auckland's Durham Lane, it was a true and literal hidden gem due to its off-the-main-street location.
The Bluestone Room decided that if they could raise online awareness of their functions offering, the rest would look after itself. Offering the most unique heritage location in the CBD, and armed with passionate SEO know-how, see what it means to dominate.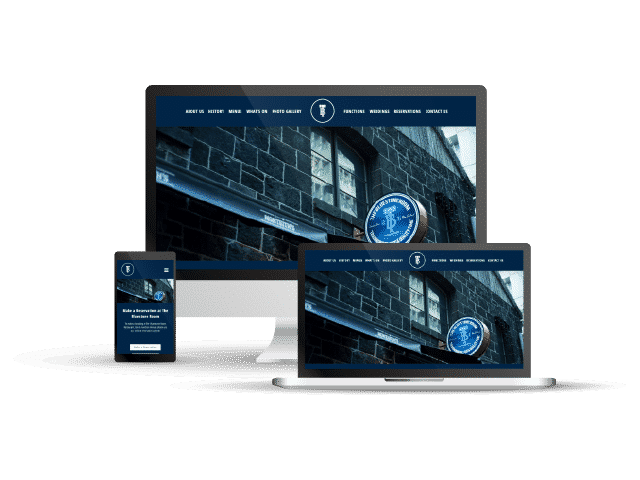 Results
Increased Traffic
One of the key tenets of our approach is to pinpoint the most important revenue earner for each of our clients. By doing so, our digital strategy combining consistent value-added newsletter comms along with a highly optimised website saw a 160% increase in site visitation almost 12 months from the beginning of the initial work began. For a site that had been averaging around 900 visitors each month, a lot of the SEO infrastructure that existed was already in good shape. We just made it even better.
The on-page content strategy was designed to entice, showcasing aspects of The Bluestone Room which differentiated it from every other hospitality business in the city. With page rankings rocketing upwards, site numbers remained consistently high over a 2 year period culminating in a significant increase in event and function bookings. 
Overall, at the 3-month date, our SEO rebuild resulted in some amazing results for The Heating Company.
Increase in Organic Traffic
Relevant Keywords on Page 1
On-page and Technical SEO
How do you create meaningful value-added content for a business in the hospitality sector? As a multi-functional business that correctly sat in the bar, restaurant, function and wedding venue category, one of the key questions to answer was where best to focus the content.
So our due diligence identified a couple of key findings across each of these sectors – specifically, where was there an obvious opportunity to dominate and would it make a significant difference from a revenue perspective for the client? Once we were able to make a clear call as to how we could provide differentiated content in this space, the rest was easy.
The result being – in a space typically dominated by media and event aggregator websites whose advantage is a treasure chest of good content, The Bluestone Room was able to compete right alongside for Top 3 positions across all of the high volume relevant keywords. Heads and shoulders above their competition in one of the toughest and most competitive SEO online categories in Auckland.
Creating a Better User Experience
The main issue with this site when we initially walked through it was that like any business which offers multiple things to multiple people, the way the site is structured and the way the information flows from the home page – the user experience can often be fragmented. When you have crystal clarity as to where and how to target a site's content, it's all about providing value-added efficiency. Web page content + downloadable takeaways that didn't regurgitate what was already on-page + rich media.
Adding a few bits and bobs which a person who had never been to the venue before would appreciate from an online perspective, we ensured that for anyone looking to compare function venues, they got real value from experiencing the site.
Consistent Value-Added Newsletters
It's old school but still a viable option for many businesses if done correctly. With a sizeable customer list, the no-brainer strategy was to keep them sticky and make sure they were still using the website from time to time.
To do this, we created a monthly comm for The Bluestone Room with 2 key remits. For one, it needed to be consistent, month on month, regardless of readership numbers and open rates. Second, and most importantly – it needed to provide incentives for readership and not just spin content for the sake of pushing out a monthly newsletter. All concerns and fears were put to rest months after kickoff.
Results were immediate, with open rates averaging 25 to 35% over the span of 3 years and a viable outlet for the bar and restaurants to run promotions as well as constant reiteration of the function business.
Key Challenges
Simplifying For Google
In most cases, if a person finds it difficult to interpret what your business does or it's core offering is after reviewing your online information, then most likely Google will too. Achieving clarity is difficult as to business owners it feels like they are sacrificing revenue earning opportunities within the business, but it's not really the case. The biggest challenge with The Bluestone Room was understanding what it's true unique differentiator was and then ensuring it was amplified for Google in one category to keep things simple.
Ready to
dominate

the first page of Google?
Chuck & Richard (and the rest of our awesome team) are ready to begin the SEO conversation for your website.